Guidance for National Societies on safe and remote risk communication and community engagement during COVID-19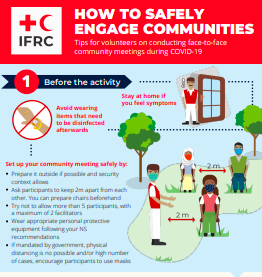 Download
Resource details
Resource type: Guidance note
Organisation: IFRC
Region: Global
Category: COVID-19
Tags: Advocacy, Arabic, Community work, COVID-19, Disease...
Publication year: 2020
Language: English
Description
This guidance note provides recommendations to NSs on how volunteers can carry out face-to-face social mobilization safely, how to advocate for continued access to communities and options for remote RCCE. Available in multiple languages. The English version of the document includes an infographic and Canva template.
Share