This CEA workshop is a game changer for me as regards how activities will be carried out in my branch. It will add a lot of spice to our activities as I have learnt how to listen, document, analyse and interpret feedback data into information that can be used to make activities more effective."

Peter Ochu, CEA FP Kaduna State, Nigeria.
Peter Ochu is one of the participants at the a 4-day Community Engagement and Accountability workshop organised by the Nigerian Red Cross Society (NRCS) with the support of the International Federation of the Red Cross (IFRC) with the participation of 22 program officers from the 11 states where the hunger crisis project is being implemented. The workshop which was aimed at equipping the branch field officers with the necessary skills on how to put communities at the centre of our activities for effective programming featured real-time group exercises on how to mainstream CEA in all activities and how to document their feedback.
Closing the feedback loop is one of the most interesting part to me during this workshop. It is important that we respond to community feedback in such a way that answers all questions from community members.

Mary Ogwa-Ike, CEA FP from Benue State Nigeria
Community Engagement and Accountability is an aspect of the Red Cross Red Crescent programming that enable us to listen to community members and get their perspective on the activity that we implement in locality as succinctly put by the CEA Delegate who facilitated the workshop, that "we are working with and for the communities, it is very important that we listen to them and act to meet their needs as well as manage their expectations".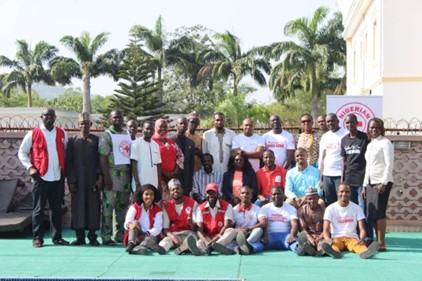 Branch officers who participated during the workshop are the Disaster Management Officers, CEA Focal Points and Planning, Monitoring Evaluation Report, PMER officers.
Data Analyst Delegate, Amadu, Senior CEA Officer IFRC, Lilian Adeogba and CEA FP for the Nigerian Red Cross Society, Mofe Amoma were among those who facilitated during the 4-day workshop.